Litter 1 (A) 26.01.2004
Parents WCH WCF, QGC TICA Vesta Valenvic and WCH WCF Khariton Angara

Alan Sibaris
Lives in Germany in the cattery "Iz Tundra Sibirsk". International champion WCF, nominant and winner of many shows, father of excellent litters. Best wishes to his host Nicole and his first host Alla!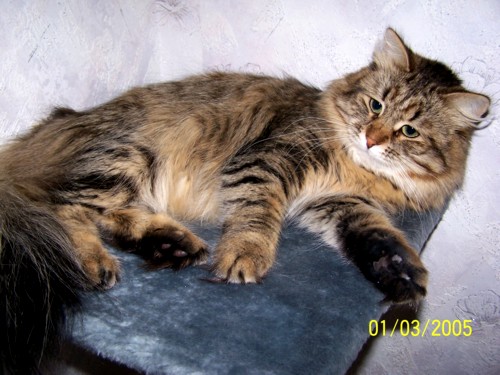 Aksamit Sibaris
Lives in Spain in the cattery "Siestadream". Champion FIFe, father of beautiful children, which have already won a lot of european shows. Congratulations, Onofre!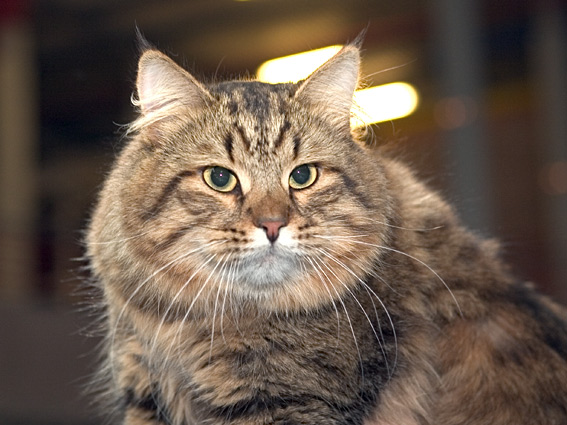 Alaseya Sibaris
Lives in Krasnoyarsk, foundaror of world-known cattery "Dostoyanie Sib". International champion of WCF, mother of brilliant litters from world-notable Grand European Champion WCF Busik. Thank you, Larisa, for long-term and productive cooperation!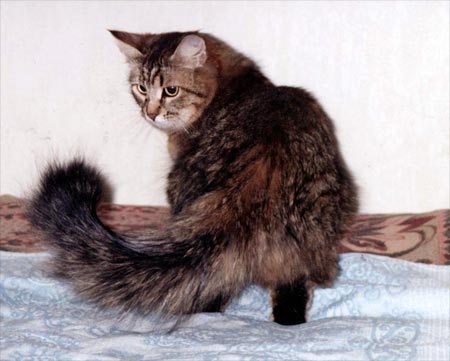 Litter 2 (B) 28.02.2005
Parents WCH WCF, QGC TICA Vesta Valenvic and WCH WCF Khariton Angara

Baron Sibaris
Baron lives in Moscow. He was our first alumni to close the title of WCF World Champion, Baron has already obtained the title of FIFe International Champion. He is multiple show nominant and Best in Show winner. One of our favourite grooms. Great thanks to Andrey and Ann for heroic show labour and their love to Tosha!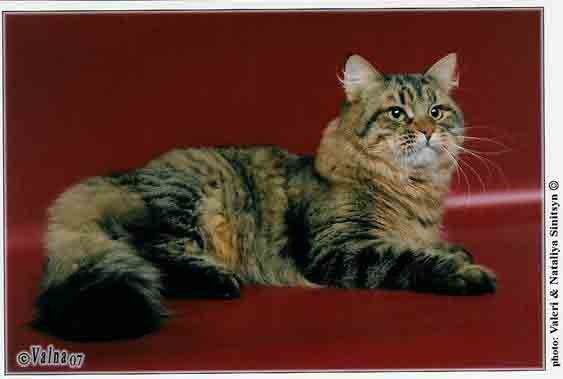 Babr Sibaris
Lives in St.Petersburg, beloved by his owners. Thanks to Eugeniy and Tatiana for their tenderness to Bob!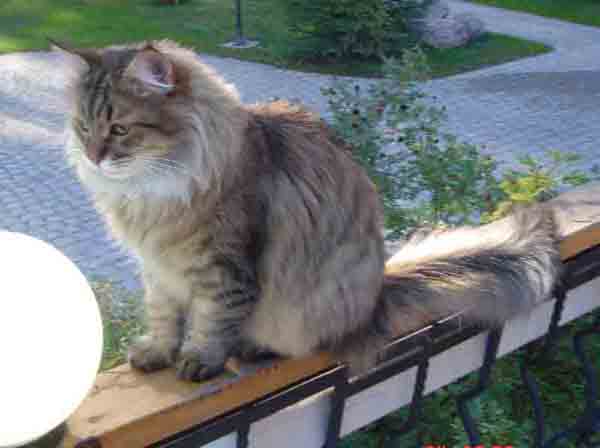 Blestka Sibaris
Lives in USA, the central breeding queen of "Kotchera" cattery. Blestka promotes Siberian breed in CFA system, where she already holds Champion title. Purrs to Blestka and her host Wendy!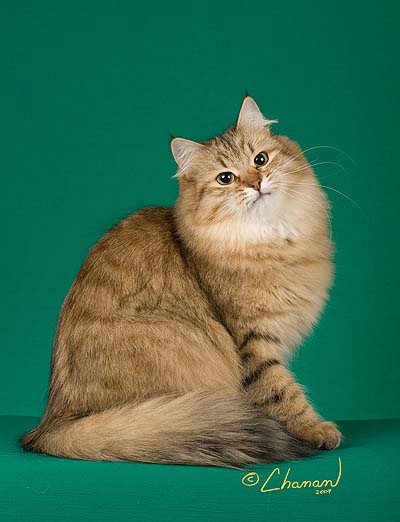 Litter С 05.04.2005
Parents ICH WCF Alaseya Sibaris и GECH WCF Busik
We consider this litter as joint with Krasnoyrsk cattery "Dostoyanie Sib". Kittens of our alumni Alaseya were born in Krasnoyarsk, and togeter with their mother had to come to Moscow at the monthly age. The litter has grown in our cattery. Together with "Dostoyanie Sib" cattery, we our proud of this litter and glad that we could help Larisa to raise her first kittens under very hard family circumctances.

Sibaris Ceriy Dostoyanie Sib
Lives in Norway, in "Circumpolare" cattery. Ceriy is a huge stud, nominant of shows, FIFe International Champion. Cathrine, thank you for constant efforts in promotion of Siberian breed and for fruitful cooperation!
Sibaris Cashmir Dostoyanie Sib
Lives in Finland, in "Igora" cattery, he is FIFe International Champion. Cashmir is such a marvelous breeding stud, that even breeders from distant England came for mating with him. Bets wishes to you, Suvi!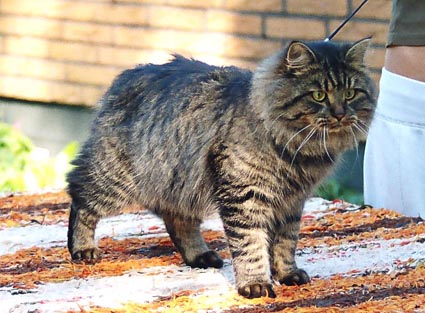 Sibaris Charisma Dostoyanie Sib
Lives in Finland, in the cattery "Amantes". Charisma is FIFe International Champion, mother of excellent kittens. Thank you, Merja, for long-term friendship and your persistent and serious work over the breed!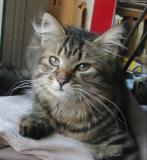 Litter 3 (V) 11.02.2006
Parents WCH WCF, QGC TICA Vesta Valenvic and CH WCF Lancelot Onix Gloria

Veresk Sibaris
Lives in "Passionata" cattery, one of a few catteries in Germany working upon rare golden color. Winner and nominant of several shows, WCF International Champion. Good luck to Christina in establishing goldens!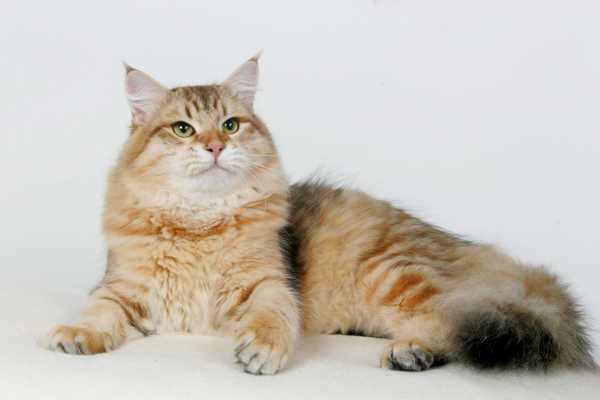 Vassa Sibaris
Vassa lives in Slovakia, she is successful at the shows, already winning several BIVs and nominations. She is FIFe International Champion. Love and great litters to Vassa and her host Zora!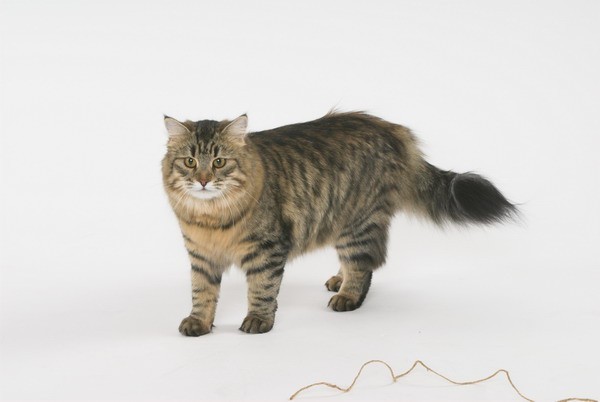 Litter 4 (G) 13.08.2006
Parents GECH WCF, GIC FIFe Fenya-Rys' Ionessi and WCH WCF, ICH FIFe Baron Sibaris

Gagarin Sibaris
Lives in "Holskogen" cattery in Norway. Being only 5 months of age, Gagarin already had very serious victories - two days he was the Best SLH kitten on the show of SUROK club in Lahti (Finland), and Best kitten of historical Lahti Siberian Special Show. We are proud of this boy. Best wishes to him and Kristina, and we hope, that Gagarin will make his own page in Siberian history!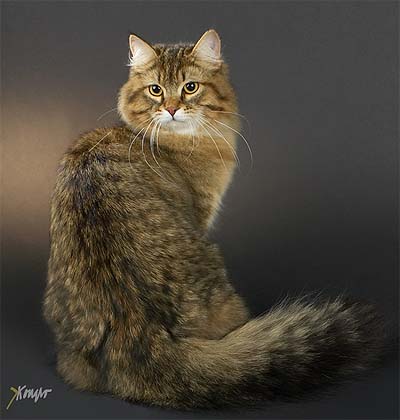 Godomir Sibaris
Godomir lives in USA in "Prekrasne" cattery. Godomir is a copy of his mother Fenya and we hope, that he inherits her impressive show career. Love to Godomir and his host Sue!
Additional information about kittens can be obtained by:

8 (495) 333-06-89

и

8 (903) 227-34-01




pfu@land.ru, a_koles@land.ru, koleso@ibch.ru